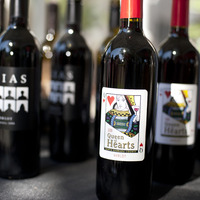 While you are in town for the Sandestin Wine Festival, make sure to sign up for your favorite groceries delivered right to your vacation rental! Here are some yummy snacks that will pair well with:
Cabernet Savignon – cheddar cheese, ribeye, beef stew, grilled tuna, eggplant, grilled peppers, gingerbread & carrot cake
Melot – parmesan & romano cheeses, grilled meats and steaks, grilled swordfish, tuna, dark chocolate & berries
Chardonnay – asiago cheese, veal, chicken, shrimp, crab, squash, banana bread & vanilla pudding
Sauvignon Blanc – pine nuts, chicken, turkey, oysters, scallops, asparagus, sorbet & key lime pie
Visit our Shop page to build your grocery list.
Details for the Sandestin Wine Festival
The 35th Annual Sandestin Wine Festival will take place April 7-10, 2022. The Sandestin Wine Festival has been named the "Best Annual Event" by Destin Magazine, and is known as the Best event in the Visit South Walton Beaches Wine and Food Festival area.
The Sandestin Wine Festival at Baytowne Wharf brings an opportunity for discovery. Four days of unique events open up a wide range of experiences from attending wine dinners with celebrity chefs, participating in preview events throughout the year, and taking part in wine tastings that showcase hundreds of wines.
Wine novices are able to learn more about wines and sample from a comprehensive selection in all varieties, styles, and price ranges. Wine aficionados enjoy meeting winemakers, asking detailed questions, and acquiring hard to get selections. Everyone gets to enjoy the live music, interactive experiences at the Culinary tents, and shops and dining of the Village of Baytowne Wharf. THIS EVENT IS RAIN OR SHINE!
The 35thAnnual Sandestin Wine Festival is sure to be a memorable event. Stay tuned to their website and sign up for the newsletter to be the first to know about special events and new activities. The Village of Baytowne Wharf is always open to the public. Even during special events, guests are welcome to visit the shops and merchants. Non drinking festival guests are welcome to attend the Grand Wine Tasting with their friends at no charge–they will not receive a wristband.
Enjoy!