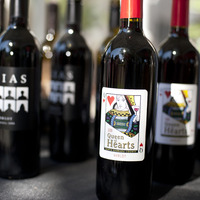 Apr 13-16, 2023
While you are in town for the Sandestin Wine Festival, make sure to sign up for your favorite groceries delivered right to your vacation rental! Here are some yummy snacks that will pair well with:
Cabernet Savignon – cheddar cheese, ribeye, beef stew, grilled tuna, eggplant, grilled peppers, gingerbread & carrot cake
Melot – parmesan & romano cheeses, grilled meats and steaks, grilled swordfish, tuna, dark chocolate & berries
Chardonnay – asiago cheese, veal, chicken, shrimp, crab, squash, banana bread & vanilla pudding
Sauvignon Blanc – pine nuts, chicken, turkey, oysters, scallops, asparagus, sorbet & key lime pie
Visit our Shop page to build your grocery list.
Details for the Sandestin Wine Festival
You can learn more about the Sandestin Wine Festival (Wine, Food & Fun in the Sun!) on the festival website at https://sandestinwinefestival.com/
The festival website has information on accommodations, tickets, events, and vendors.
Enjoy the festival!